Is it time to sell your Santa Monica home so you can relocate or move up to a larger house? Before you decide to list, you need to take some time to prepare your home to make the best possible first impression. Follow these tips to help it compare with others on the market and encourage multiple offers from buyers.
Depersonalize
The goal of showing your home to potential buyers is to allow them to picture their lives in your house should they decide to buy. It's difficult for them to do this if you have family photos up on the wall and your spare room is filled with your hobby equipment. Before you list, go through your home with your Santa Monica real estate agent. Remove any clutter or personal objects that might distract a potential buyer and cause them to disconnect from your home. Only leave pieces of furniture or artwork that are neutrally appealing (that means removing that zebra rug and painting you bought from your daughter's artist friend.) This might make it a little boring to live in your home until it sells, but it will make a massive difference in the amount of interest you get from those who view it.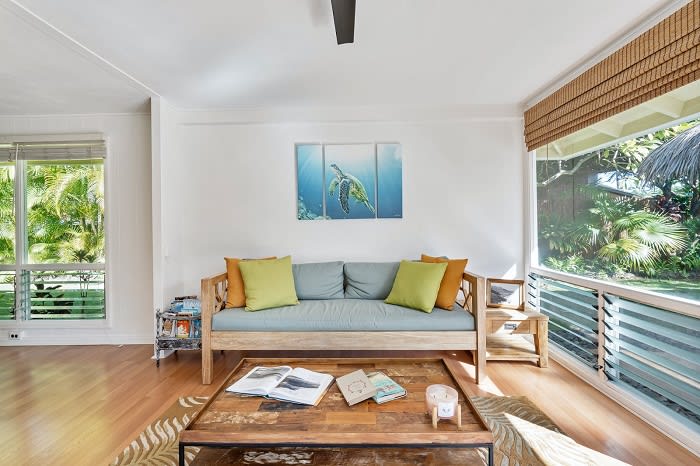 Have it Staged
Need a little help with the depersonalization process? A professional stager is trained to prepare your home for listing and make it as appealing as possible for buyers. This may include removing (or adding) furniture and décor, making sure each room has a designated purpose and ensuring that all minor repairs are done before potential buyers look at your house. Not comfortable with having a stranger in your home while the pandemic is still going on? Another option is to have your home virtually staged. This is where a professional takes images of your home and uses Photoshop to add furniture and décor to optimize space and create the best impression for those taking virtual tours or viewing your home online. Not sure which is right for you? Your Santa Monica real estate agent can help you make the decision.

Rent a Storage Unit
If you haven't found another home to move into yet, you need somewhere for all your stuff to go during the selling process. Instead of trying to cram it all in the basement, attic, or closets, consider renting a storage unit. This will get the clutter out of sight and out of mind and help you jumpstart the moving process.
Get Professional Images and Videography
Did you know that 90% of buyers search online for homes during their house hunt? Though online searches have always been popular, the pandemic has taken them from a convenience to a necessity. It's likely that anyone viewing your home in person has found it online and has already narrowed down their search to just a handful they are particularly interested in. This means that having impactful online marketing materials is essential. Before you list, get professional images taken of your home and work with a videographer to create an interactive virtual tour. Partner with a Santa Monica real estate agent to write detailed descriptions of the house so those reading about it online will know all the selling points and other important details. Santa Monica homes with thorough descriptive materials and professional imagery will always garner more interest from buyers than those without.
Get it Deep Cleaned
A clean home will always look better in photos and videos. It will also give prospective buyers the impression that your home is cared for and well-maintained. Though it's relatively easy (but time-consuming) to remove clutter and tidy your home, a deep-cleaning is much more involved and is usually best left to the professionals. They know how to use the right products and methods to make every inch of your home sparkle and encourage buyers to consider this their next house.
Focus on Curb Appeal
Whether or not potential buyers first see your home online or as they drive by, they'll likely form their first impression from the house's landscaping and exterior. If you've lived in your home for many years, you may not even notice that the lawn is sparse, the bushes need trimming, and the front door could use a fresh coat of paint. Ask your Santa Monica real estate agent or some of your friends to visit your home and give their first impressions of the curb appeal. What would make them more interested in buying the house? Does the lawn just need a trim, or do you need some serious landscaping help to make a good impression? Depending on how much work needs to be done, it may pay to work with a professional contractor to do some exterior projects before you list.
Price it Correctly
The real estate market has been all over the place in the past year. Though the Santa Monica area is currently experiencing a balanced market where there is relatively the same number of interested buyers as there is inventory on the market, it can still be challenging to decide the right listing price. Your Santa Monica real estate agent can do a comparative market analysis that estimates a home value based on others in the area that have recently sold to help you settle on a reasonable number.

Ready to start on your to-do list so you can list your home this year? 2021 is a great time to sell and make the next move on your journey, but you need to make good decisions to get top dollar for your home. Reach out to experienced Santa Monica real estate agent like those at Price + Hou and Associates to help.