What determines if one city is better to live in than another? Most people look at access to social amenities, the beauty of the city, environmental factors such as clean air and trees, education systems, and access to healthcare. These are all factors that make a city livable, and scoring a city on its liveability is a lot like the calculation of a college GPA — the average number is derived from a combination of scores. The same is true for how one city is determined to be more livable than another. One city may be known to have a better healthcare system or a further advanced system for public transportation, but this does not necessarily equate to a livable city. Performing well in a wide range of categories deems a city more livable than others. Santa Monica real estate checks the box in at least five distinct categories, making it a very livable city.
What to love about living in Santa Monica
No car needed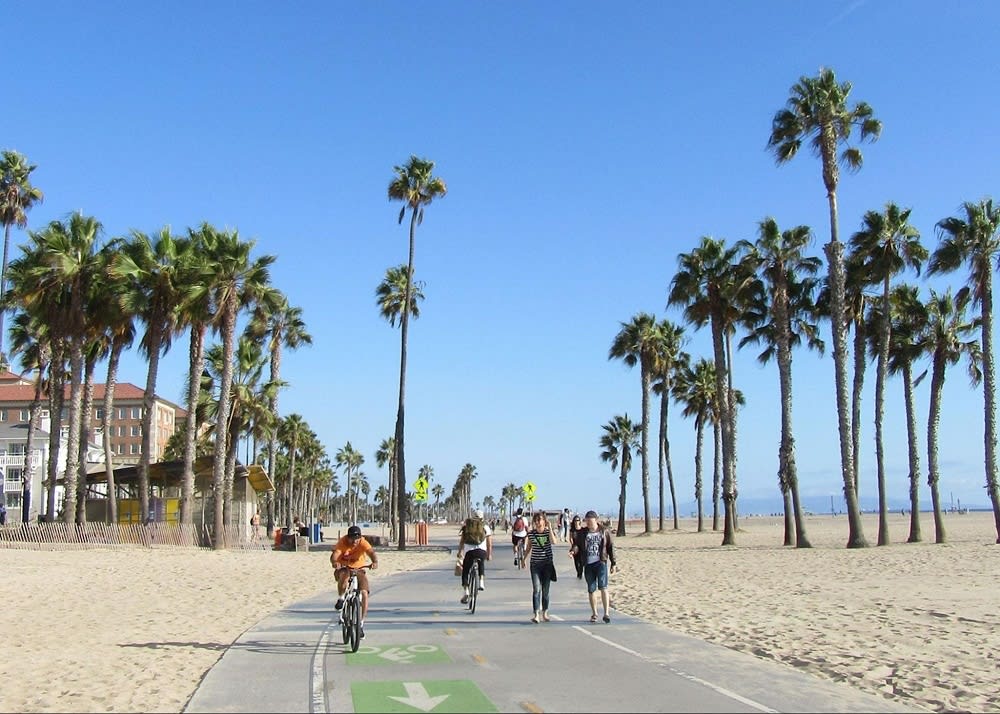 Urban dwellers love nothing more than not needing a car to get around their city. Santa Monica luxury homes give residents access to public transportation, dedicated bike lanes, and pedestrian-friendly streets, which reduce or eliminate the need for a car. Leaving your home and heading out to your favorite local restaurant is always convenient and exciting. Choosing a destination restaurant that is only a few blocks away creates a fun and stress-free evening.
Santa Monica offers great
neighborhoods
to explore. Take an adventure and meander through several neighborhoods in one day, or take your time and explore each one in detail. The Third Street Promenade is loaded with shops and restaurants and is one of the busiest neighborhoods in Santa Monica. The Main Street and Ocean Park areas both have an artsy flair to them and are filled with local coffee shops, art galleries, and boutiques. Designer boutiques are abundant on Montana Avenue, which offers over 150 high-end local shops and restaurants. Pico Boulevard is home to a diverse neighborhood with record stores, art galleries, and clothing shops scattering the street. You can choose to bike, walk, or use public transportation to explore, but you will not need a car.
Sustainability
Santa Monica — and California as a whole — is known as a leader when it comes to sustainable practices. Santa Monica is one of the top sustainable cities in the US, making it a model for other cities to follow. Programs like "Heal the Bay," solar-powered Ferris wheels, and green building options provide success stories for the world of sustainability. Innovated solutions, like using recycled denim jeans for insulation, arise out of this city. Limiting carbon emissions by encouraging the use of public transportation, biking, or walking continues to add to the city's environmental qualifications.
Diversity and inclusion
Creative ideas from people of varying cultures give unique skills and knowledge that may not be available without
diversity
. A diverse community allows for the owners of Santa Monica luxury homes to thrive from both a productive and cultural viewpoint. Santa Monica visitors and residents are exposed to a melting pot of people, cultures, customs, and religions. Living here will give you many options for food, religion, and activities, and the city is a great place to learn about different cultures.
Climate
Having a moderate climate is an attraction for many buyers. The ability to have outdoor activities year-round without frigid temperatures creates a healthy population, and Santa Monica winters have an average temperature of 58 degrees. A cozy January evening can get a bit chilly, dipping into the low 50s or even upper 40s, but there won't be any snow to shovel. These low temps are nothing a good fireplace can't fix! Entertaining friends and family on a chilly January evening will create great memories in your Santa Monica real estate.


Summers in Santa Monica are warm and dry. Having a great outdoor space in your Santa Monica real estate allows you to take advantage of the amazing weather year-round. The combination of warm and dry temperatures makes it the perfect place for pool parties and barbeques. Upgrade your outdoor space with a chef's kitchen and some cool seating, and you'll have the perfect place for friends and family to visit.
Access to outdoor activities
Regular exercise adds many benefits to one's life, both physically and mentally. Ideal weather conditions and access to a plethora of activities right out the front door of your Santa Monica real estate will add tremendous value to your life. The types of activities available to you in Santa Monica are endless. The Santa Monica
Parks and Recreation
department is extremely busy building and maintaining amazing spaces for you to enjoy. Dozens of community parks, gardens, and recreational programs are available for your pleasure. An award-winning community aquatics center provides lessons, open swimming, and water aerobics classes. Parks are littered with playgrounds, adult sporting leagues, and skateboards.
Did we mention that Santa Monica is on the ocean?
Santa Monica State Beach
offers over three miles of beach with a beautiful mountain backdrop. You can hang out on the boardwalk, adventure into the water, take a walk or sit on the beach. The beautiful shoreline is readily available to you with year-round sunshine.
Access to fresh local food
Just like we know exercise improves our health, fresh foods do the same. There are an extravagant number of farmers' markets available. The schedule varies between neighborhoods, but don't worry — if there is not a market in your neighborhood today, you can just travel a few blocks and find another! Hundreds of local
vendors
are available to sell their goods throughout the city. You will find fresh flowers, eggs, berries, honey, cheeses, meats, and many other products. Mealtimes will be amazing with all the local fresh ingredients available to you.
Ready to look at Santa Monica luxury homes?
Urban living can be challenging without the proper planning and investments in place. Santa Monica is a very livable city, and life here will be simply divine. If you're ready to make a move and look for Santa Monica listings, contact
Homes by Price + Hou
today.