Santa Monica is a bustling beachfront city about halfway between Los Angeles and Malibu on the Pacific coast. Locals know it as "The Westside." It's home to many famous company headquarters, including Beachbody, Fatburger, Hulu, and Lionsgate Films. Approximately 90,000 residents are spread across its 16-square-mile footprint, and it's a haven for tourists.

The Santa Monica Pier is one such tourist spot that's popular with locals as well. It features an amusement park, cafes and snack stands, an aquarium, and fishing opportunities. Palisades Park is a bluff-side green space that's ideal for people-watching, walking, biking, and picnicking.

Residents bask in a coastal, Mediterranean climate, where temperatures range from 51 degrees to 70 degrees during the year. It's no surprise, then, that homes for sale in Santa Monica are currently selling at a median home price of $2,895,000. Santa Monica real estate benefits from a strong seller's market, and the median home price has increased by approximately $1,250,000 in just one year. A seller's market means that more buyers are searching for homes than there are homes available for sale. During times of crowded tourism, new homeowners may be tempted to flee for a day or a long weekend. Fear not, as there are fantastic day trips in every direction.
Fun day trips to take from Santa Monica
Head west to Catalina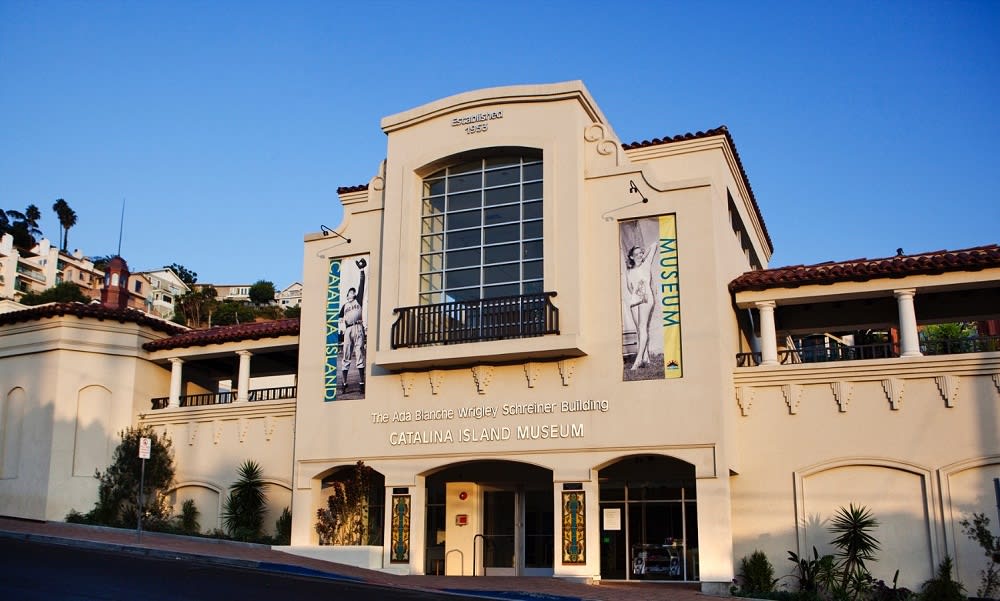 Image courtesy of Catalina Island Museum
Santa Catalina Island is a popular tourist spot about 44 miles south of Santa Monica. Locals know it simply as "Catalina." About 90% of its population of approximately 4,100 residents live in the city of Avalon. Before the 1920s, when William Wrigley, Jr. (of chewing gum fame) developed the island as a tourist hotspot, it indeed was part of the Wild West. It was famed for otter hunting, a gold rush, and smuggling. The island covers an area of about 55 square miles, and visitors can get there on an hour-long ferry ride from Dana Point, Long Beach, Newport Beach, or San Pedro. Newcomers with new digs amongst homes for sale in Santa Monica can take a short drive to any of these departure points for a quick boat ride to paradise. Campers, hikers, and explorers can enjoy all of the secret coves, sandy beaches, and crystal-clear waters of the Pacific Ocean. For the not-so-outdoorsy types, check out the
Catalina Island Museum
. Recent exhibitions included a Norman Rockwell 1940s retrospective, "Soot and Water: Gyotaku Records of Catalina," and "Gayle Garner Roski: Journey to the Titanic."

Head north to Santa Barbara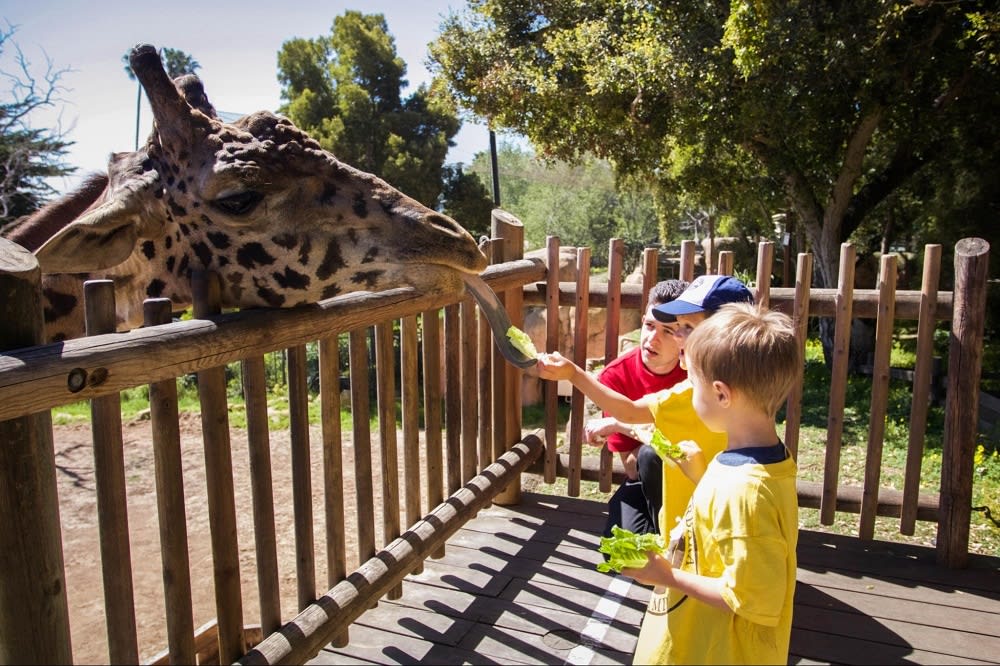 Image courtesy of Santa Barbara Zoo
A trip up the coast to Santa Barbara is less than 100 miles from your home amongst Santa Monica real estate from one beach haven to another. In this coastal town of around 91,000 residents, you'll enjoy less crowded conditions than in the city. However, you'll still have all of the goods and services you need to enjoy a day trip for lunch and whale watching or window shopping along the State Street Promenade. Kids and adults alike will love the Santa Barbara Zoo. Although it fits in a compact, 30-acre parcel of land, the views of the animals are stunning — and so is the panoramic view of the ocean. Santa Barbara's moderate temperatures make for exhilarating surfing, swimming, and beachcombing. For true indulgence, take in one of the many exclusive winery tours and wine tastings, or check in for a staycation at a B&B or upscale beachside resort. After a morning of shopping, stop at
Stearns Wharf
for a quick cappuccino and pastry at one of its cafés before heading back home.

Head south to Oceanside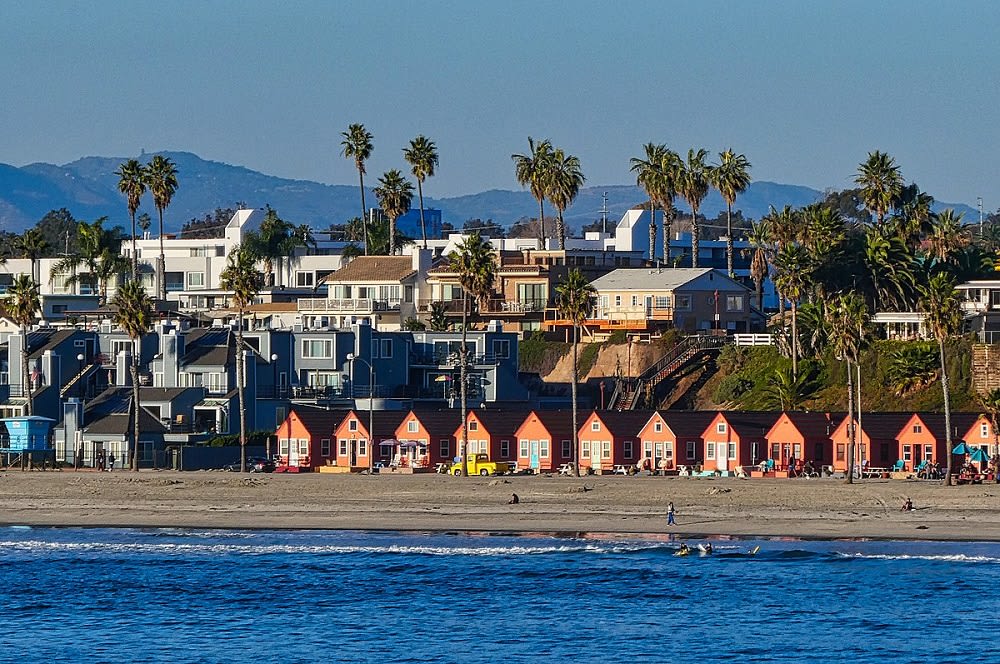 Located just 96 miles from your new home in Santa Monica, Oceanside is a city on the Pacific Ocean about 38 miles north of San Diego. It covers an area of about 42 square miles and has a population of approximately 175,000 residents. It's quite a popular tourist spot since its temperature ranges from 40 degrees in the winter to 70 degrees in the summer. Visitors enjoy outdoor sports, recreational activities, sporting events, and historical landmarks. The annual
Race Across America
is a 3,000-mile, coast-to-coast race that the Tour de France inspires. Oceanside hosts the annual
SuperGirl Surf Pro
event, which is the world's largest women's surf competition that attracts athletes, including Olympic athletes, to its gates. Those less inclined to participate in vigorous sports can opt for a stroll along the Oceanside Pier. Originally built in 1888, it measures around 1.942 feet in length and is one of the longest wooden piers on the West Coast.

Head east to Palm Springs
Palm Springs is a desert city about 121 miles east of Santa Monica in the Coachella Valley. Its nearly 45,000 residents occupy an area of approximately 94 square miles and enjoy year-round desert temperatures that range from 48 degrees in the winter to 108 degrees in the summer. The area is not only famous for winter tourism by welcoming "snowbirds" from freezing locales such as Buffalo and Chicago (among many others!), but it's an active retirement destination. So much so that its population triples in the five months between November and March each year. Day or weekend visitors can plan their getaways to enjoy annual events that include the
Palm Springs International Film Festival
in January and its counterpart, "ShortFest," in June. The Agua Caliente Cultural Museum hosts the annual Festival of Native Film & Culture, which celebrates the work and history of Indigenous people.
Food lovers can tuck into gastronomic treats during the Palm Springs Desert Resorts Restaurant Week. The event lasts ten days and features incredible dining at more than 100 restaurants in the valley.
Looking for Santa Monica homes for sale?
Do you want to live within driving distance of these fantastic areas? Contact
Price + Hou
to start your search for luxury real estate today.